About Us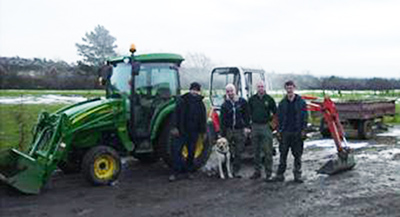 We are a family run business with over 40 years combined expertise ranging from sports turf maintenance, management and Drainage to Commercial and Domestic Lawn-care, Agronomy and Field / Lawn drainage. Since we began trading we have built a solid reputation as a professional and competitive company.
With a team that includes 3 fully experienced contractors who are qualified to degree level, New Horizon Horticultural Services are a professional organisation. We have an ever expanding network of clients located throughout the North East, including commercial, domestic and private clients as well as local authorities. For more in depth information about our company and the services we offer please take a look around our website where you can find details on all our services, client reviews and projects.

The Team
Andrew Morrison
Operations, construction, tree surgery, surveys/plans and office administration. Andrew has been working in the landscape and amenity horticulture industry for 20 years.
NVQ Levels 1,2,3,4 Amenity Horticulture/landscaping - Houghall College.
NVQ levels 1 and 2 Agriculture - Houghall College.
PA1, PA2, PA6 NPTC Spraying certificates - Houghall College.
CS31, CS32, CS38 and CS39 NPTC full chainsaw license and tree climbing certificates.
Stuart Morrison
Lawn treatments and operations, lawn surveys and turfing, Stuart has been working in the sports turf industry for 20 years.
City and Guilds Level 4 in Amenity Horticulture - Houghall College.
PA1 and PA2 NPTC Spraying Certificates - Houghall College.
NPTC Full Chainsaw License.
Gary Young
Operations, construction and ground-works, Gary has been working in the Landscaping and horticultural industry for 5 years.
Sid Morrison
Barking a lot, chasing his tail, being a pest! Sid has been causing trouble in many a garden throughout the North East for 7years! (He's Andrews dog!)
With many happy clients throughout the North East, Cumbria and North Yorkshire, we are making a difference to the landscape throughout the North of England.