Scarification
This is the 'scratching' of the turf surface and is used to either raise up flat lying vegetation or to slightly penetrate into the surface rooting area of the turf, which may be the soil root-zone material or any underlying thatch layer.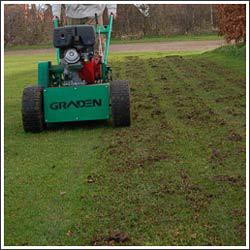 What does it do?
Scarification forms part of the regular maintenance programme of turf areas, especially fine turf, and is carried out for a number of reasons:
1. To remove thatch and prevent its build-up.
2. To act as a cultural control for weeds, especially moss, clover, pearlwort and trailing weeds.
3. To weaken Yorkshire fog (Holcus Lanatus) and other weed grasses.
4. To improve surface penetration of water.
5. To improve the air flow around the grass plant and reduce the potential for disease attack.
6. To aid the incorporation of materials, such as fertiliser, top-dressings, irrigation water and grass seed, by making the sward/soil surface act as a 'key' to bind to.
7. To aid grass seedling establishment by providing shelter for the seed and by reducing the potential for desiccation from wind.
When should it be done?
Scarification should only be carried out when there is strong growth taking place, otherwise the turf may suffer a setback in development. Because of this, scarification is generally limited to use between April and September. A slightly moist surface root-zone, with a dry grass top, will help to encourage a smoother penetration of the tines into the sward and will reduce the chance of excessive tearing out and damage to the turf, which can readily occur if the site conditions are too dry.
A typical frequency of operation is every 2 - 4 weeks, depending on the standard and condition of the sward.
How deep should it be done?
The intensity of the operation will vary to suit the existing soil and turf conditions. A poorly rooted, weak sward will need more care than a well rooted sward. Typical depth settings for a scarifier are 2 - 3mm for a light scarifying, 3 - 5mm for a medium intensity and 5 - 8 mm or greater for a heavy scarification. It is important to remember that whichever setting is chosen, the sward surface should not be destroyed. If this does start to occur, then the setting is most likely too deep and will need to be adjusted